System Capabilities & Features
A smooth, quick process for resolving notices every time.
NOTICENINJA is designed to grow with your business. Whether you are managing a single office or multiple locations, our software can be customized to meet your specific needs and scale as you grow.
Collaboration
NOTICENINJA's team-based approach enables you to share information, communicate and collaborate effectively with your team members, so everyone can stay on the same page and resolve notices efficiently.
Reduced Costs
Automated processes and tools reduce the need for manual work, saving you time and money in the long run. With the ability to manage your notices, POAs and compliance reports in one centralized location, you will be able to reduce costs and improve your bottom line.
Peace of Mind
With NOTICENINJA, you can rest assured that your team is in good hands. Our software provides a clear, concise and organized process for resolving notices, reducing the risk of missed deadlines, lost files and costly mistakes.
Notice Management
Manage by priority, not chronologically.
Audit Trail – Keep an accurate and complete history of all changes made to notices and related information.
Reporting & Dashboards – Stay informed and make data-driven decisions with real-time visibility into notice information, including priority, status, due dates, and more.
Integration – Seamless integration with your existing systems, including ERP, accounting, and other business applications.
Data Security – Ensure the security of sensitive information with multi-layer security protocols and user permissions.
Collaboration – Collaborate with internal teams, clients, and vendors through shared workspaces, communication templates, and task assignments.
Improved Processes – Streamline and standardize your notice management process, resulting in improved accuracy, efficiency, and cost savings.
Customization – Configure the platform to meet your specific needs, including custom workflows, communication templates, and more.
Scalability – As your business grows, the platform can scale to accommodate increased volume, users, and requirements.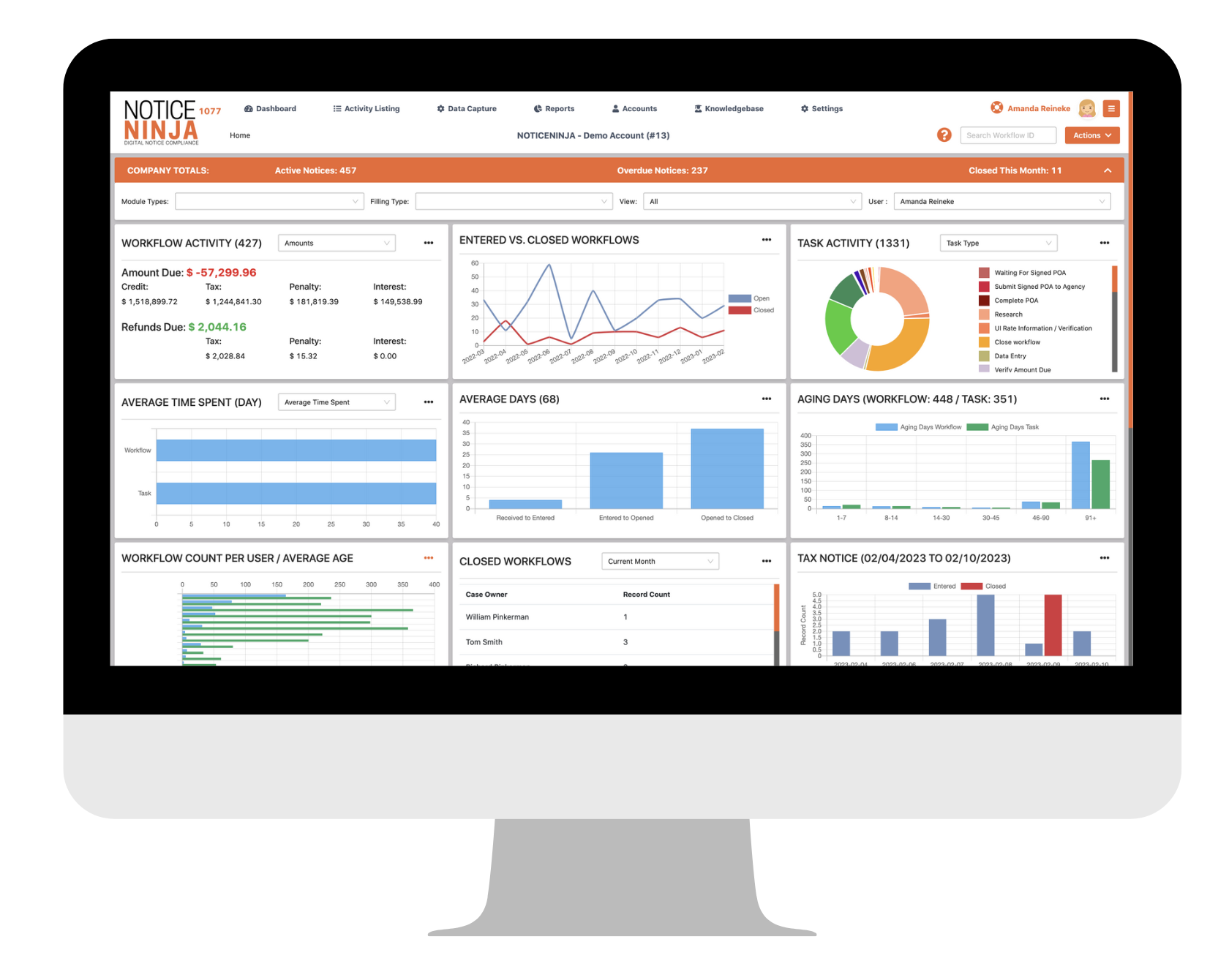 Customizable Dashboards allow users to manage notices by priority, amounts, due dates and more. Graphs provide at-a-glance views of critical metrics while Management Reports allow users to dig deeper into the data.
Metrics & Data Visualization
Automate Tax Notice Management and Compliance.
Markets served include corporations, service providers, CPA's and compliance firms.
LEARN MORE NOW
Contact us with a question
Contact for questions about streamlining your tax notice compliance with NOTICENINJA.
CONTACT US